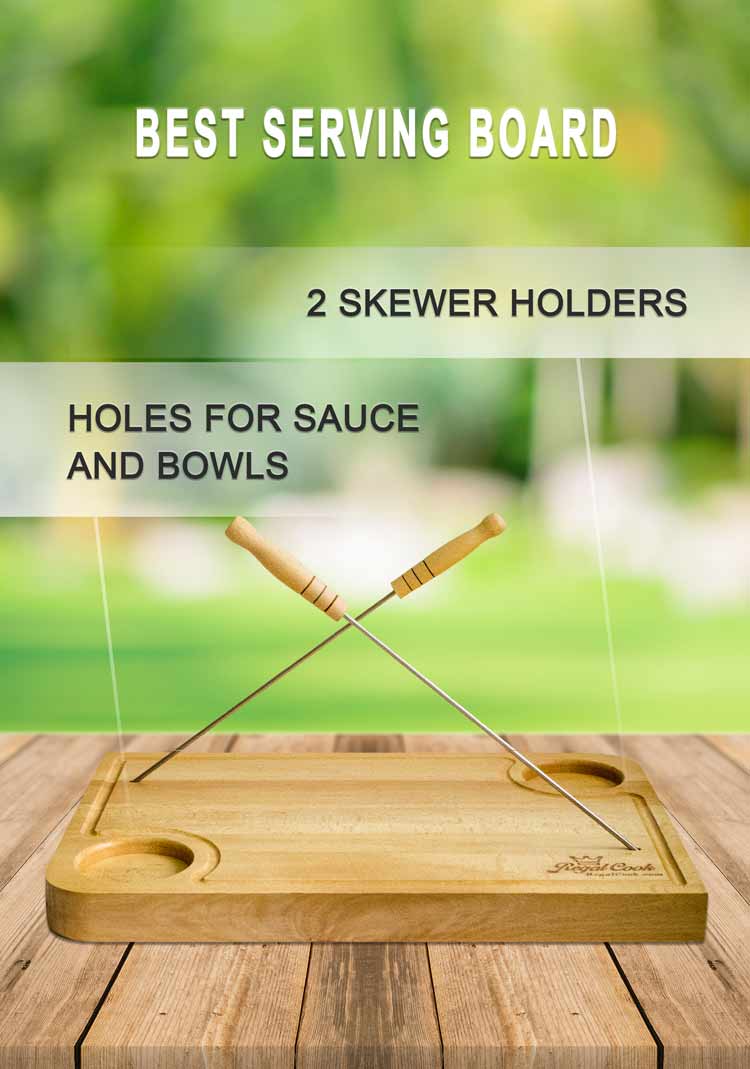 The Best Premium Cheese, Fish and Meat Wooden Serving Board with 2 Stainless Steel Skewers
Ideal for Your Kitchen, Restaurant and Parties
Why Regal Cook's wooden serving board?
Premium Wooden Serving Board
The Serving Board made by "Regal Cook" is ideal for serving in a restaurant, at a party and in your kitchen:
Wooden Serving Board which can be used as Wooden Cutting Board (Wooden Chopping Board)
Serve meat, fish, cheese, vegetables and fruits on this board.
Use it as breakfast, lunch and dinner serving board.
Ideal for serving food at a party.
Can be used in restaurants to serve different food on it.
2 Knife Holders, so you can carry your knifes with the board
2 Stainless Steel Skewers with Wooden Handles, so you can put meat, vegetables and other food and server them on the board.
 Undercut Handles, so you can easily carry the board
 Deep Juice Grooves for collecting succulent liquids from roasted meats
 Waterproof Surface, so you can easily clean the board
 Handmade Elements
 Holes, so you can place Sauce and Bowls there
 Antibacterial Non-Toxic Beech Surface for your safety
 Impregnated with special BIO OIL and WAX
Large size: 18 (L) x 12 (W) x 1.5 (H) in. (approx. 46 x 31 x 4 cm.)
Made in Bulgaria, Europe by professionals with many years of experience
Premium Quality!
WORLDWIDE EXPRESS DELIVERY
WORLDWIDE DELIVERY
DELIVERY PRICES from €4.99
Usually delivered within 2 to 5 business days!