How to maintain a Wooden Serving Board
Instructions
Although the below maintenance instructions are related to the RegalCook's Wooden Serving Board they may apply to any wooden serving board or wooden chopping board or wooden cutting board. So please read them carefully and apply what you think is necessary for your own wooden board. You can also check the instructions of your own wooden board producer.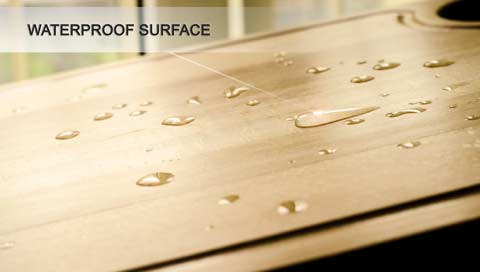 Maintenance:
Your new wooden serving board should be treated accordingly to allow it adapt to your home or work environment (mainly in terms of moisture).
Apply serving board/chopping board conditioner, oil or wax to the whole surfaces of your wooden board on a monthly basis.
We recommend monthly treatment to prevent the wood fibers from drying out.
Apply a thin layer of the conditioner on all surfaces of the wooden serving board with a dry cloth and allow it to absorb.
To obtain gloss of your wooden board, polish it with soft dry cloth.
You may search Amazon or Google for an appropriate conditioner, oil or wax.
Here is what we recommend:
But there are many other good products, so you can read what other customers say.
Cleaning:
The best way to clean your serving board/cutting board is by applying bio wax after each treatment. Thus, you will not have to wash it through running water.
You can use a wet cloth or sponge to remove any remaining grease. Sticky leftovers can be cleaned by using a small amount of mild detergent on a sponge while holding the wooden board under warm running water.
Storage:
Do not store the wooden serving board in a hot place, close to direct sunlight or a heat source.
Dry the wooden serving board carefully before storing in a cupboard.
NEVER DO THAT, because you may break the wooden serving board:
Never dip the wooden board in hot water.
Never place the wooden board in a dishwasher.
Never leave the wooden board in areas of concentrated heat.
Never place a hot cookware directly on the wooden board, as you will spoil the surface.
View the wooden serving board features here.
View the product warranty here.